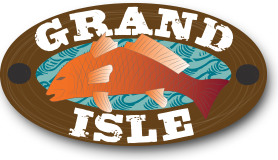 Grand Isle is the only inhabited barrier island in the State of Louisiana. It is located about a 90 minute drive from New Orleans. We are less than 5 hours from the Texas State line.
From the New Orleans area proceed west on I-310. This will take you to Boutte, LA. where I-310 will dead end. Stay right and continue west on Hwy 90. You will approach an overpass at the intersection of Hwy 308, exit right and turn south on Hwy 308. Continue on Hwy 308 until it dead ends at Hwy 3235. Turn left onto Hwy 3235 and you will eventually rejoin old Hwy 1 south of Golden Meadow. Stay on Hwy 1, you will have to take a left at the end of the new elevated Highway and your almost there. (see toll information below)
If you are coming in from the west, exit I-10 at Lafayette Hwy 90 south (future I-10 corridor) As you approach Raceland, you will see an exit for Hwy 1. Get in the left lane. After the overpass enter the left turn lane and make a U-turn. Exit Hwy 308 and follow the directions above.
Once you have rejoined Hwy 1 you will follow Bayou Lafourche. You will come to the toll bridge. You will need to be in the right lane as you approach the bridge. When you turn onto the bridge there may be an attendant present to take your payment or you may have to use one of the ATM machines. There is only a toll headed south. There is no more post pay, you must pay at the bridge.
Reel Screamers Guide Service is home based at Bridgeside Marina. When you cross the bridge onto Grand Isle, Bridgeside will be on the right as soon as you exit the bridge.
WORD OF CAUTION: Watch the 50 MPH speed zone on Hwy 3235 in Golden Meadow. The Golden Meadow speed trap must be hurting for money, they are on a tear. Lately they are writing tickets for any little thing and their most current craze is writing for people driving in the left lane of the 4 lane. If you are going to pass someone, do it then get back into the right lane. I do apologize to any and all of my customers that you have to drive through this place but there is just no way around it. Please do not honor them by buying anything in Golden Meadow. Watch the 25 MPH zone as you are getting close to Grand Isle.
We typically leave from my home on the bay side of Grand Isle. Rarely tidal conditions will dictate otherwise, you will received detailed departure instructions prior to your trip.